Saturday, September 26, 2009
Thank you to Celebrity Baby Blog for posting Ali's cover with New Mom's Handbook!
http://celebrity-babies.com/2009/09/25/ali-landry-longs-for-a-southern-style-upbringing-for-estela/
Ali Landry Longs For a Southern Style Upbringing For Estela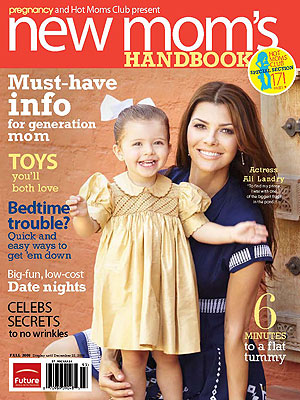 Courtesy New Moms Handbook for use on CBB
Born and raised in Louisiana, Ali Landry is bringing the traditional southern style to Los Angeles — especially when it comes to Estela Ines, her daughter with Alejandro Monteverde.
Despite her efforts, however, the actress often longs for her hometown qualities among her now metropolitan lifestyle.
"I grew up in Louisiana where I have 18 sets of aunts and uncles all living within 30 miles of each other," she
tells the fall issue of New Mom's Handbook.
"In the South you visit a lot. I mean you don't call and say, 'I'm coming over,' you just stop by and visit all afternoon. It makes me so sad not to have that for Estela [in Los Angeles]. That absolutely is the toughest thing in the world."
Fortunately, experiencing life in both Louisiana and the west coast got Ali's creative juices flowing; She recently launched her children's clothing line, Belle Parish.
"It started because my mom saved these beautiful day gowns from when I was a baby," she shares. "When I had Estela she flew here and brought me this beautiful box with all of these delicate little cotto
n dresses that women in our town made by hand." A quick glance around, and Ali realized the old-fashioned style was hard to come by in Hollywood!
"And then it occurred to me, in California I see a lot of children dressed like adults. I have so much appreciation now for where I'm from and that traditional style. I just really wanted to celebrate each phase of her life and I wanted to dress her like a baby with bonnets, dresses and the little crocheted shoes."
Calling every day in motherhood "a new experience," Ali reveals that, as of lately, her time has been spent battling the terrible twos. "She's just started that age where she hits me sometimes," she says. "I'm very consistent and I do put her sitting in the corner." Keeping the lines of communication op
en with Estela, Ali — who will "try to talk to her and explain why we don't hit people" — is also a stickler for good manners. "I also like to make sure she says, 'Please,' and 'Thank you.' And, 'Yes, Ma'am.'"
Click below to read about how Ali and Alejandro's morning parenting routine differs and what Ali's mother said that made her cry.

While Ali and Alejandro may agree when it comes to manners, the same can't be said for Estela's morning routine. "Every single morning — we actually fight all the way, pushing — to see who's going to get i
n Estela's door first," Ali laughs. "We can't stand to be awake without her with us."
As the mother-daughter pair enjoy waking up in a "serene" setting — "I pick her up and give her a hug, and I'm just very gentle and quiet," she says — Alejandro likes nothing more than to celebrate each sunrise!
"Alejandro bursts open the door singing the 'Mexican Morning Song' and it's loud and he's loud. And she says, 'Papa, apaga la luz [turn off the light].' So, I want her to have that calm in the morning and he is just all-out with her."
Motherhood for Ali has left her appreciating her own mother that much more. "I have the best mom in the world
," she boasts. The importance of her mother's approval was evident when both Ali and Alejandro's families gathered to celebrate Estela's second birthday, the 36-year-old says.
"One day she pulled me aside and said, 'I've been watching you and I want you to know that I really admire you as a mother," Ali recalls. "You are so amazing with Estela. I never see you raise your voice. You always talk to her and she really listens. I'm just in awe of how you are with your child." Kind words from mom was all it took for Ali to break down! "I started crying. There's nothing in the world that would mean more to me than what she said."
Source: New Mom's Handbook
– Anya
Ali is also on the cover of CHILD STYLE- thank you Gemma!
http://www.childstylemagazine.com/ or you can view the actual magazine online at http://www.childstylemagazine.com/fall09/ it is awesome!


Here are some pictures from ABC with some of our buyers! The lovely ladies of Tiny Town in Mobile, AL and the ladies of Belly Couture in Lubbock, TX. It was so great meeting you and we will see when we launch Belle Parish in your store in 2010!


We are still basking in the success of ABC and have jumped another hurtle this week- finding reps! We are proud to be with Hollee Hannon of Hope's Chest in Dallas (http://www.hopeschestdallas.com/) and Jeff McClellan of Parker Reps in Atlanta (http://www.parkerreps.com/id2.html)! We will be attending the Atlanta market on Oct. 17th and Dallas Market Oct. 22nd! Come visit these reps for more info Belle Parish!
Posted by

BELLE PARISH
at 1:26 PM
No comments:
Links to this post

Tuesday, September 22, 2009
http://www.fox5vegas.com/video/20933188/index.html

Watch the link!
Posted by

BELLE PARISH
at 7:20 PM
No comments:
Links to this post

Saturday, September 19, 2009
Ali and I went to our first trade show in Vegas last week and it was a success! We drove to Vegas and set up our booth with the help of Ali's parents- Gene and Renella. We stayed at the Palazzo- which we LOVE and had a launch party at the Wynn's BLUSH, which was fantastic!

The response to our first line was great and we are so excited to have clients across the country. We met a lot of people...from Texas to Rhode Island, and Alabama to California. Ali will make in-store appearances to launch our line if any boutique owners out there are interested! If so- go to our website and fill out the contact information form. We look forward to going to Louisiana, Rhode Island, Texas, Alabama, and New York in 2010!

Also- I will be setting up a special 'pre-order' section on our website. Currently the line is Spring/Summer 2010 and will be avaialble to buy in January, but we want to know what everyone likes the best... Please check in with us as we continue to grow/change our website!

Again- ABC was amazing and we really enjoyed meeting everyone. We didn't really get to walk around that much because we had to stay in our booth, but we did manage to find a few things that got us excited!

Uppababy
Dayla Baby
4moms
Yubo lunch box
Comotomo
...and the girls from Hayli Bug/Luvstuff are awesome!

we'll post more pictures soon


Posted by

BELLE PARISH
at 4:28 PM
1 comment:
Links to this post

Okay- We have so much to talk about but first we must mention the AMAZING launch party we had in Vegas last week during the ABC Kid's Show. Thank you to Geneva, Gemma, Kristin, and Sal for making this party a huge success! We were so excited to see the turnout (as the last picture indicates) and to celebrate BELLE PARISH and CHILD STYLE MAGAZINE. Here are some pics from the party!